THEMA inaugurates the launch of MAGHREB TV+ pack in spain on TIVIFY
Thursday, September 07, 2023
THEMA, a Canal+ company, in partnership with Tivify platform, is delighted to announce the launch of a suite of nine premium Moroccan TV channels bundled into a single package created and assembled by THEMA for the first time in Spain, MAGHREB TV+.
For an additional monthly cost of 3,99 EUR, Tivify users and the Moroccan community living in Spain now have access to the leading generalistic and thematic Moroccan TV channels. On 2M, Al-Aoula, Chada TV, Al-Maghribia, Tamazight and Al-Thaqafia, they can enjoy the most popular entertainment shows and dramas, the daily informative and documentary program as well as the latest music and cultural releases. They can also stay tune of the latest news and in-depth analysis from Morocco on MEDI 1 TV and M24, discover religious lectures and educational programs on Assadissa, and much more.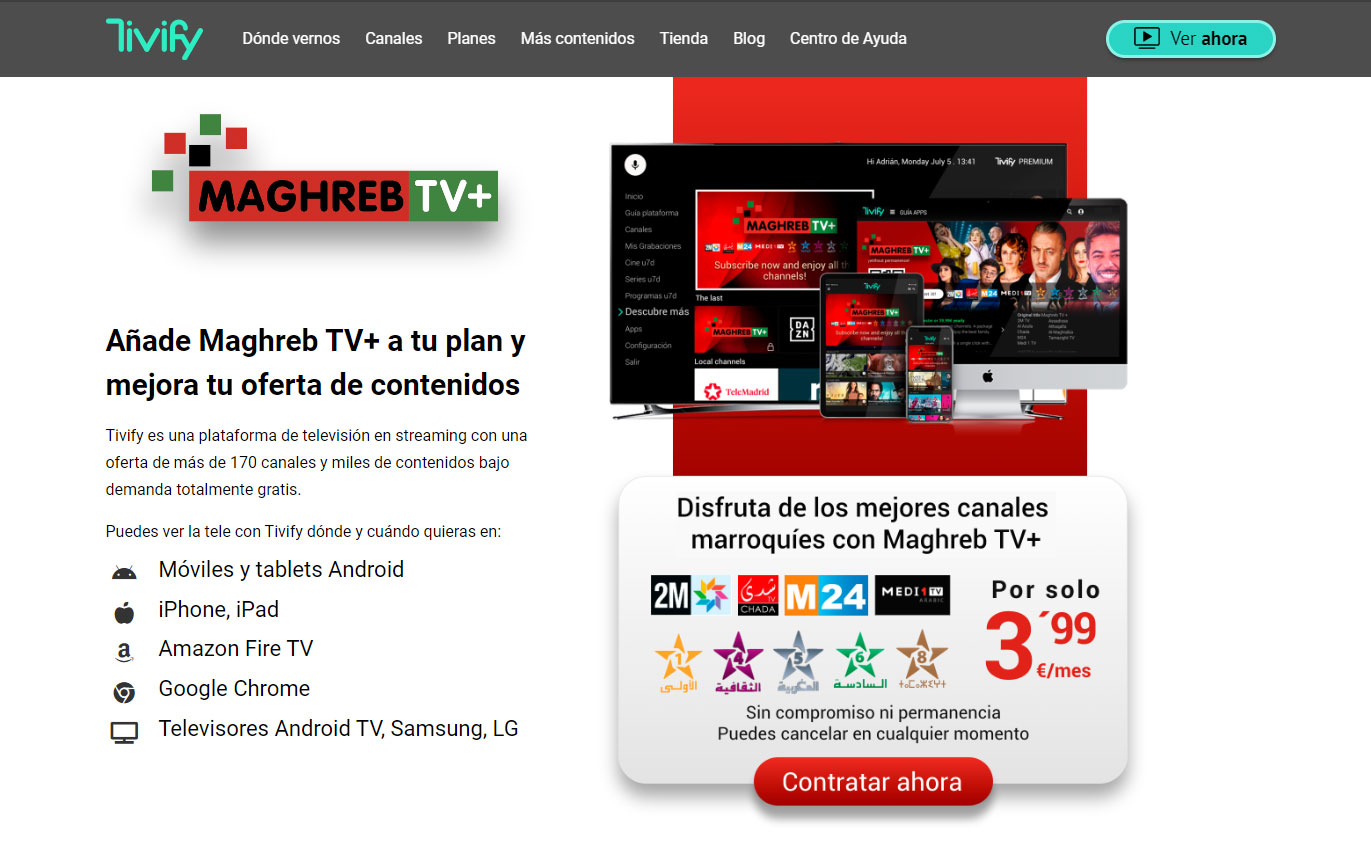 Tivify is an innovative and constantly growing platform operating in Spain since 2019 and providing to its customers a wide range of local and international TV channels, FAST channels, VOD catalogues, as well as a large selection of all leading local and international Apps. Tivify services, including MAGHREB TV+ package are available everywhere, on all devices and with no commitment.
"Maghreb TV+ is an offer designed to answer the Arabic community's expectations in Spain. This TV segment in Spain was not addressed, whereas the Arabic community established in Spain reaches more than 2,5M people. We are delighted of this partnership with Tivify which is the right partner to launch the first Arabic TV offer on the Spanish market", said Timothée Vidal, SVP Multicultural Distribution and Digital at THEMA.
"At Tivify we are very clear about our mission to provide the different communities living in Spain with content that is relevant to them. With the incorporation of Maghreb TV+, we are responding to the Maghreb community, bringing them a high-quality service with advanced functionalities, so they can access their favorite content like never before. THEMA, with its knowledge, experience and leadership in the French market, has been the ideal partner for this launch", said Rubèn Miró, TV Product Director at Tivify.
About Tivify
Tivify was developed by TVUP Streaming Media, a Spanish tech company based in Barcelona, Madrid and Santiago de Chile. The company is immersed in a process of constant innovation that allows TVUP to be at the forefront of its sector. The company's goal is to reimagine TV and, as part of that effort, Tivify offers a ground-breaking TV service in Spain. It includes free channels that can be streamed from any device, and paid plans with additional perks and content. The users also have access to advanced functions and personalized content suggestions thanks to the platform's technology, which offers a unique user experience. For more information, please visit www.tivify.es